I saw with some hilarity this article that just delightfully plays that delicate balance of 'it must be a satire…or is it?' about an ad agency — 'Huge a digital design and advertising firm that runs the social media accounts for eight different brands' — who allegedly took 45 days to write a Tweet for a client, who had a sum total of 100 Twitter followers.
The original article can be found here:
http://www.businessinsider.com.au/huge-social-media-manager-does-all-day-2014-5
And is well worth reading. If you haven't read it, read it now and come back. More to be discussed!
Now to be upfront, they're disputing the facts in the article above. They wrote some Tweets that were included in a BuzzFeed article (now I feel like I'm writing a satire, more on that later). Reproduced below, for science. And later reference.
@abrahamjoseph Facts don't matter in this article, apparently. So many inaccuracies. Don't believe everything you read. 😉

— Alyssa Galella (@woodlandalyssa) May 27, 2014
@abrahamjoseph The number of team members mentioned is wildly inaccurate. We don't even have "10 to 20 strategists" / 13 people on the team

— Alyssa Galella (@woodlandalyssa) May 27, 2014
Editor's note: 13 people happens to be a number between 10 and 20.
@abrahamjoseph We might plan general topics / themes on an editorial calendar 45 days out but not the specific tweets. That's absurd.

— Alyssa Galella (@woodlandalyssa) May 27, 2014
@abrahamjoseph Also worth noting we started the account from scratch last month with no paid media + strict legal dept. Not a typical client

— Alyssa Galella (@woodlandalyssa) May 27, 2014
So what's the problem here?
Well that's pretty darn obvious. Turnaround times like that (and even half, or a third of that) are pretty much the reason a lot of bigger brands don't resonate with their audiences: the content has no timeliness, has been touched by way too many cooks, and ultimately is just boring.
Now I'm not saying all ad agencies are like that. They're not. Some get it, some don't.
But here's my first problem.
Turnaround times for content need to be managed.
Sometimes clients do have annoying legal departments, or require strenuous review processes. Now this usually happens in places like highly regulated environments (e.g. financial services) or government. Not a cheese brand. But I'll give them the benefit of the doubt there.
However if you know this to be the case, you need 'evergreen' content, and a strict process with agreed response times to handle it. We ran a survey a little while back about what content planning tools people used, including this question:
As you can see, a lot of the brands planned content within a month: in fact, about 80% one month or less. We asked them about how they actually got to that point — what kind of review processes were involved.
68% had some kind of approval process they had to go through. Within these 68%, 60% only had to approve some content, not all. In the comments, these people generally had statements like:
Campaigns are planned in discussion with the director. Copy generally goes through without being checked, unless it's a specialist or sensitive area.

When something comes up that I believe will need approval I forward it on to those that can make those decisions and then wait their approval. I include time frames, deadlines and tie-ins to indicate why I need the piece and when I need it by.

I can approve all content and only require Senior Executive approval for potentially sensitive information.
Now these people were a small sample from across many industries — yes, including fast-moving consumer goods like cheese, but also police, government, financial services and other places that actually have a need for some formal approval processes, at least for some content. There was also admittedly a heavier bias to people working inhouse (64%) although with the trend toward hybridized staff (i.e. work for an agency 'on secondment' to a brand) this is possibly a bit fuzzy.
So as an agency, it's your responsibility to define the processes and make them manageable. If the client expects that 45 days is a reasonable turnaround, then you are probably doing something wrong, and/or they shouldn't be using social media. Simple as that.
Now onto the second problem we have here.
This was PR done badly.
There's nothing more painful than an agency (PR/marketing/advertising/social/whatever) who do a terrible job. And these guys did a pretty bad job.
Let's look at what happened here.
They invited some journalists to come and write a story about their agency, presumably to build some nice PR. The journalists might not have been invited — they might have asked to come in, but regardless, they were obviously invited into the space, and took some nice photos etc.
They disagreed with the content of the story that came out on the other side.
Now let's briefly pause here. Looks like something went wrong — you invite someone into your office, and they write something you don't agree with. Uh-oh. Red flag #1 right there. Does anyone at Huge know about PR and media relations? If I was a client I'd be asking questions right now, because social media (like all communications) requires some nous about PR and media relations to do effectively and not bork up.
But how to respond? This is where we really get to the meat of things, and where they really dropped the ball.
Protip: Crisis communications is actually a thing.
Now stuff does happen. Journos get it wrong, life happens. Sadly for these guys, Business Insider is a relatively well-respected outlet, and has a fair bit of traffic. So probably not something to just brush under the rug.
But what happened? One of their staff just started tweeting people who shared the article on Twitter saying it was wrong.
Then disaster struck, and at around 11:01pm BuzzFeed jumped on the bandwagon with a typical satirical piece that again strikes that lovely balance of 'just believable enough':
http://www.buzzfeed.com/tomphillips/this-tweet-took-a-team-of-experts-45-days-to-create
Interestingly, this is how they chose to get the word out. In a BuzzFeed article alongside an account that just spams people sharing the Business Insider article telling them it's 'all wrong', and then linking them to BuzzFeed. Yes, it's totally wrong, here's a link to BuzzFeed that has the real truth.
I mean, at least it wasn't The Onion.
Now at the time of writing this, BuzzFeed's home page included such journalistic gems as
25 Reasons Why Crutches Are The Spawn Of The Devil
Egyptians Snap Photos Of Empty Poll Booths
Everything Emma Watson Has Ever Recommended On Twitter
56 Movies Guaranteed To Make You Ugly Cry
And my personal favourite, a quiz:
Which Day Of The Week Are You?
With the lovely subtitle No matter what, you're always a Funday.
So let's just agree here, regardless of whether you love or hate BuzzFeed.
BuzzFeed is not a channel for official communications.
BuzzFeed is a place for listicles, Advertorials, and cat memes. Not a response to an article in Business Insider.
And another point to consider:
Don't throw your client under the bus.
I really love the way that they try and throw their client under the bus for all this.
@abrahamjoseph Also worth noting we started the account from scratch last month with no paid media + strict legal dept. Not a typical client

— Alyssa Galella (@woodlandalyssa) May 27, 2014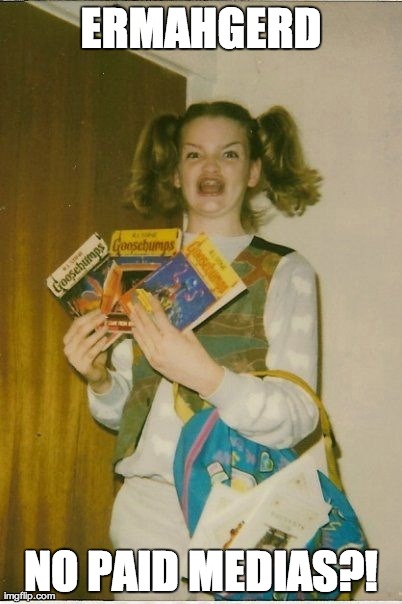 If a client doesn't want to spend money on paid media, who cares? Does that matter? No.
It will mean that the account won't grow that quickly. Which probably in the client's eyes, is fine. Suggesting that 'if only they had advertising dollars' they would somehow have gotten millions of amazing RTs from cheese lovers desperate for their melty goodness is a farce.
And what about the strict legal department? That's essentially saying 'oh, it's not our fault the content took ages to get out, it's the client's legal department'. Even if that's the case, that's the client's thing to say, not yours.
I really hope Président Cheese fires them for this. No matter what happens and who is at fault, whether you're a consultant or an agency — you don't throw the client under a bus. If they want to say it was their fault, let them do it. On their own channels. Not on your staff's Twitter account.
So what should they have done?
Yes, I shouldn't bash on these guys. I've already trolled them lightly on Twitter. And they're not the first agency to make a fool of themselves and their client, nor will they be the last.
But let's be constructive for a minute. Let's consider the concept of crisis communications. I don't think this was a crisis, but I think that their response is a pretty solid social media fail, particularly for a brand who apparently do social media well.
But what should you do in any kind of crisis, big or small? Let's look at some principles.
Get someone appropriately senior involved depending on the severity of the issue. It means that you have an 'official response'.
Craft a response, giving your side of the story.
Release the response on an official channel (i.e. one that you own and control).
This might be a press release, it might be a blog post, whatever. Let other journalists quote this, and keep going back to it if you get questions about it.
Now the exact nature of the response is too complex for this blog post which is already too lengthy. Call it spin, call it PR, call it bulls**t, your choice, but you need to work out how to get the facts straight.
Huge needed to write a response. In proper words, not 140 characters. On their blog. I would suggest something like this:
Huge was featured in Business Insider recently in an article about how we manage the creative process. Unfortunately there were some misunderstandings and the article falsely claims that we take 45 days to write an individual Tweet.

The account in question was a brand new account, and we spent considerable time with the client identifying the best strategy for the account and how it would best reflect their brand and future advertising activities. As a large multinational brand, this can take time to get right, and strategy plays a very important role in any social media activity — a more important role than any individual piece of content.

We work with our clients to plan editorial calendars to ensure that their brand voice is consistent across owned, earned and paid media. This can sometimes be weeks in advance, and other times months.

Every client we work with at Huge is unique, and we enjoy working with clients across a vast range of industries and specialties. As a specialist agency creating experiences that transform brands, grow businesses and make people's lives better, we believe in spending the time to make sure we learn everything about our clients in order to ensure that we produce effective, on-brand content that resonates with their audiences. [I'm quoting from their site here….]

Huge regrets that Business Insider has unfortunately misunderstood what occurred in the planning of our client's first Tweets. We have been in contact with them in order to correct the article but have not heard any response as yet.
Put it on a blog on the hugeinc.com domain, and link to that. Don't link to BuzzFeed. Let them quote from that, or even Tweets if they want, but the Tweets should reference your one source of truth, which should be on somewhere you own. It means you can update the information if it changes over time, or if you need to refer to any other sources on the web.
It might seem a bit over the top, and it quite possibly is — but if you've made it to BuzzFeed, it's probably worthwhile taking it seriously before you become a(nother) punchline.